Buy and Sell Gold and Silver Coins
A Village Stamp & Coin T A M P A   C O I N   D E A L E R S We buy and sell gold and silver coins, buy and sell certified coins and provide appraisals of rare coins & coin collections
Sell coin collections and old paper money at A Village Stamp & Coin, serving Florida and the Tampa Bay Area since 1979.
We provide 150 years combined experience in rare coins, numismatics and coin collection appraisal. We are established dealers in gold and silver coins, certified coins and old currency, and provide appraisals for rare coins and stamps. For your convenience, a full inventory of coin and stamp supplies is available in the store.
Bring your coin collection or rare coins to our shop for an expert appraisal and immediate payment. We buy and sell gold and silver coins, bullion, bars, rare coins, copper, platinum, palladium, old currency both U.S. and foreign, rare stamps and certified coins for hobby and investment.
A Village Stamp & Coin
813-962-3880
 

How To Find Us

Map and Directions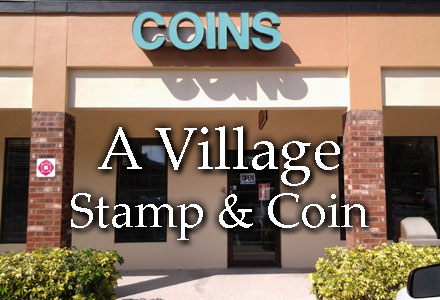 "I didn't know anything about coins. I came here. He was honest, and he was willing to teach me stuff. And I've been learning and buying from him ever since." -- Mike Kallay

"I was introduced to this shop by my boyfriend, and I really love the company. They're fun to talk with, and they teach us a lot, and we've had great deals. And they're honest." -- Krista Philpott


View on YouTube
A guided tour of our coin store in Tampa FL - A Village Stamp & Coin



View on YouTube
Prices quoted in this video are subject to change according to market conditions. At the time of filming, the spot price of silver was $18.75 an ounce.



View on YouTube
A video about the difference between common, scarce and rare coins from the coin experts at A Village Stamp & Coin, Tampa's most trusted coin store.